A New Deal Vision for Big Bend
In March 1933, newly-elected President Franklin D. Roosevelt pioneered the "New Deal": a series of domestic programs creating jobs via relief programs and massive public works construction projects. The motto of the day was "Relief, Recovery, and Reform." As poverty reached desperate levels, Texas searched for any means to create employment and increase state income. One plan involved the development of what was known in 1933 as "the Big Bend District" of Texas.
Dams, Highways, and Resorts
Declassified State Department files reveal that Texas attempted the most complex Great Depression international public works project in American history.  The plan was pure genius:  construct three hydroelectric dams along the Rio Grande in Big Bend, creating multi-use reservoirs for recreation, flood control, and irrigation.  An unlimited supply of electric power would allow Texas to build a multi-use border highway–serving as a commercial artery for the southwest United States, the infrastructure of a massive international park and—in the event of an attack from Mexico–serve as a military highway for national defense similar to the modern interstate system.
With highway access, artificial lakes and an infinite supply of electricity, Texas planned a massive tourist resort to rival any recreation area in the Western Hemisphere.  The dam and highway projects would provide immediate employment for thousands of starving men in El Paso and help Texas develop self-sustaining townships along the lower Rio Grande supported by floodplain agriculture and tourist dollars.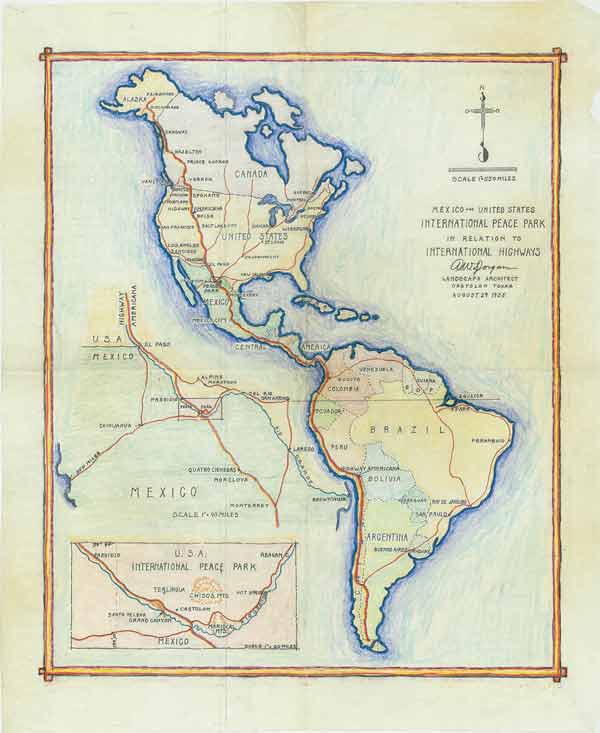 Hand drawn map of the International Peace Park by Albert W. Dorgan, showing connections to proposed international highways from Alaska to South America.   Courtesy National Archives.
Parks, Parkways, and Recreation Areas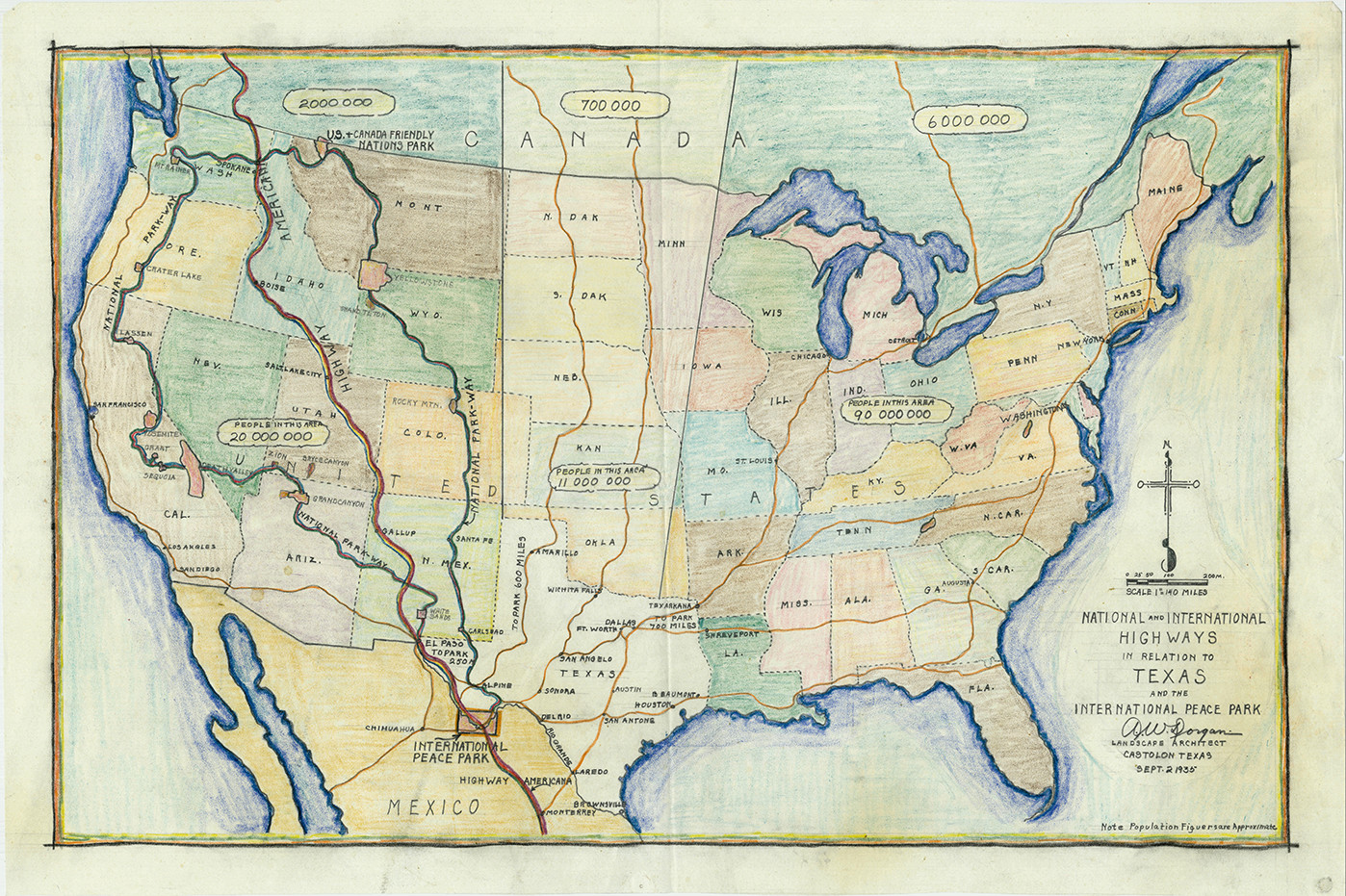 In 1934, Congress considered the first "Parks, Parkways, and Recreation Areas" bill. President Roosevelt took office in March 1933 and states nationwide competed for relief funds to turn submarginal land and forests into recreation areas. Unlike national parks, recreation areas allowed for nearly unlimited development. State parks were often developed with federal assistance and left to the state for maintenance and administration. A series of "National Parkways" designed for recreational driving were constructed and maintained by the National Park Service.
The term "parkway" itself was coined, in part, due to the massive expansion of scenic roadways as private automobile travel increased in the 1920's and 1930's. Texans in Washington proposed a "Big Bend-Black Hills Highway" connecting the Black Hills of the Dakotas with the Big Bend region. Similar proposals nationwide included a "Glacier-to-Gulf Motorway" connecting Calgary and Alberta, Canada to Tampico, Mexico. Texas established an "International Peace Highway" guiding visitors from Quebec and New York to Laredo, Texas and on to Mexico City via the "Inter-American" or "Pan American" Highway.
The Pan American Highway—an intercontinental roadway connecting Alaska with the tip of South America—enjoyed international support and by 1933, an extension of the Pan American Highway connected Laredo, Texas and Monterrey, Mexico. Albert W. Dorgan's proposed highway routes funneled southbound domestic and Canadian traffic through El Paso, and then onward to Mexico via Big Bend.
A Hacienda Resort in Big Bend — 1934