Rewriting the founding history of Texas' first and largest National Park
Established in 1944, Big Bend National Park includes over 800,000 acres of unspoiled desert wilderness, canyons, and mountains overlooking the Rio Grande. Remnants of unique border communities dot the landscape, with mesquite bushes reclaiming once-verdant cotton fields and vegetable gardens. For Big Bend residents in the early 20th century, this riverside frontier was–for a brief moment–a tranquil paradise hidden within a vast wasteland of unforgiving terrain and temperatures exceeding 100 degrees.
To understand the story of Big Bend National Park, one must separate fact from fiction in a region where tall tales are currently accepted as historical facts. A closer look at the stories behind this scenic desert wilderness reveal events nearly impossible for modern visitors to imagine. Of all the legends of Big Bend, perhaps the greatest mystery surrounds a landscape architect who abandoned a successful life in Michigan to become–per current accounts–a simple cotton farmer in Big Bend selling produce to local miners and ranchers.
Our exploration of Big Bend started in January 2014 with a simple question: Who was Albert W. Dorgan, of Castolon, Texas?
Ghost Town on the Rio Grande
Castolon is an unlikely setting for events that rewrite the founding history of Big Bend National Park. Established in 1901, the town occupied a lonesome stretch of the Rio Grande over 100 miles from the nearest improved road and within sight of Mexico. Residents operated small trading posts along this forgotten frontier and transformed the riverfront floodplains into irrigated cotton fields.
In 1926, the general store opened a post office and established Castolon as an official Texas border town. Unfortunately, this prosperity was short lived. Declining cotton prices and increased enforcement of immigration laws forced many subsistence farmers to abandon Castolon or risk deportation, and by the 1930's only 25 residents remained in this tiny border community–including Albert W. Dorgan.
Today, Castolon is preserved as a historic district within Big Bend National Park. Most structures are little more than piles of rubble, though the post office remains frozen in time and preserved almost exactly as it appeared in the 1930's. Visitors stroll the nearby Dorgan-Sublett hiking trail and read signs describing this obscure chapter of Texas frontier history. What the information kiosks do not reveal is that Castolon was the birthplace of the largest unknown political conspiracy of the Great Depression.
Mysterious Ruins of the Dorgan House
Considered one of the most significant architectural features of Big Bend, the Dorgan House ruins in Castolon have mystified park visitors and locals for decades. The crumbling adobe walls reveal little about their designer beyond his ingenuity and exceptional attention to detail.
A covered terrace once offered a commanding view of the surrounding floodplain cotton fields and Rio Grande valley, but today the Dorgan House overlooks a wasteland of mesquite bushes. Only the petrified wood fireplace and entrance remain intact, with hand-hewn window lentils, mortised joints and a segmental arch doorway as unique and out of place in Big Bend as the man who designed them–A.W. Dorgan, Landscape Architect.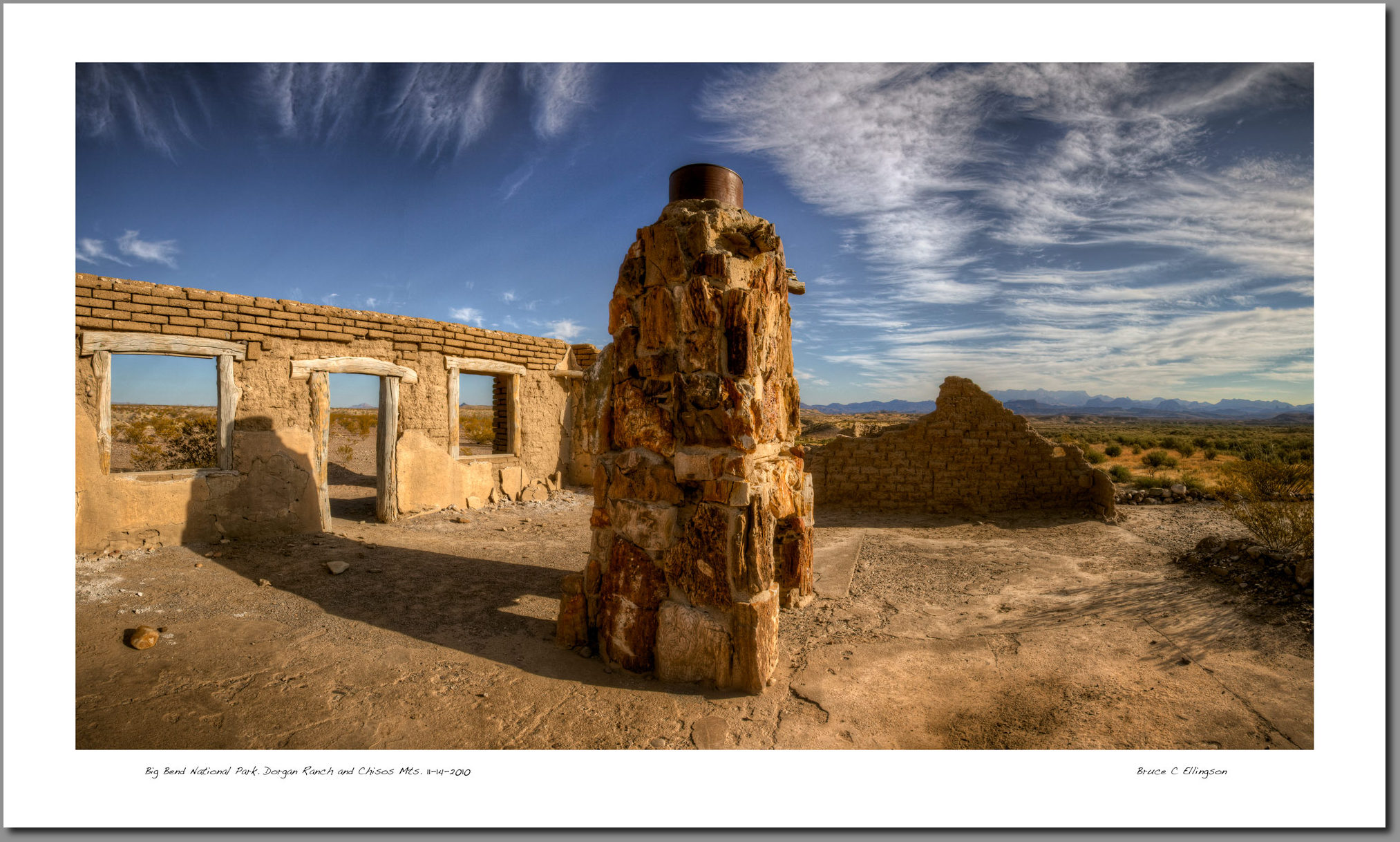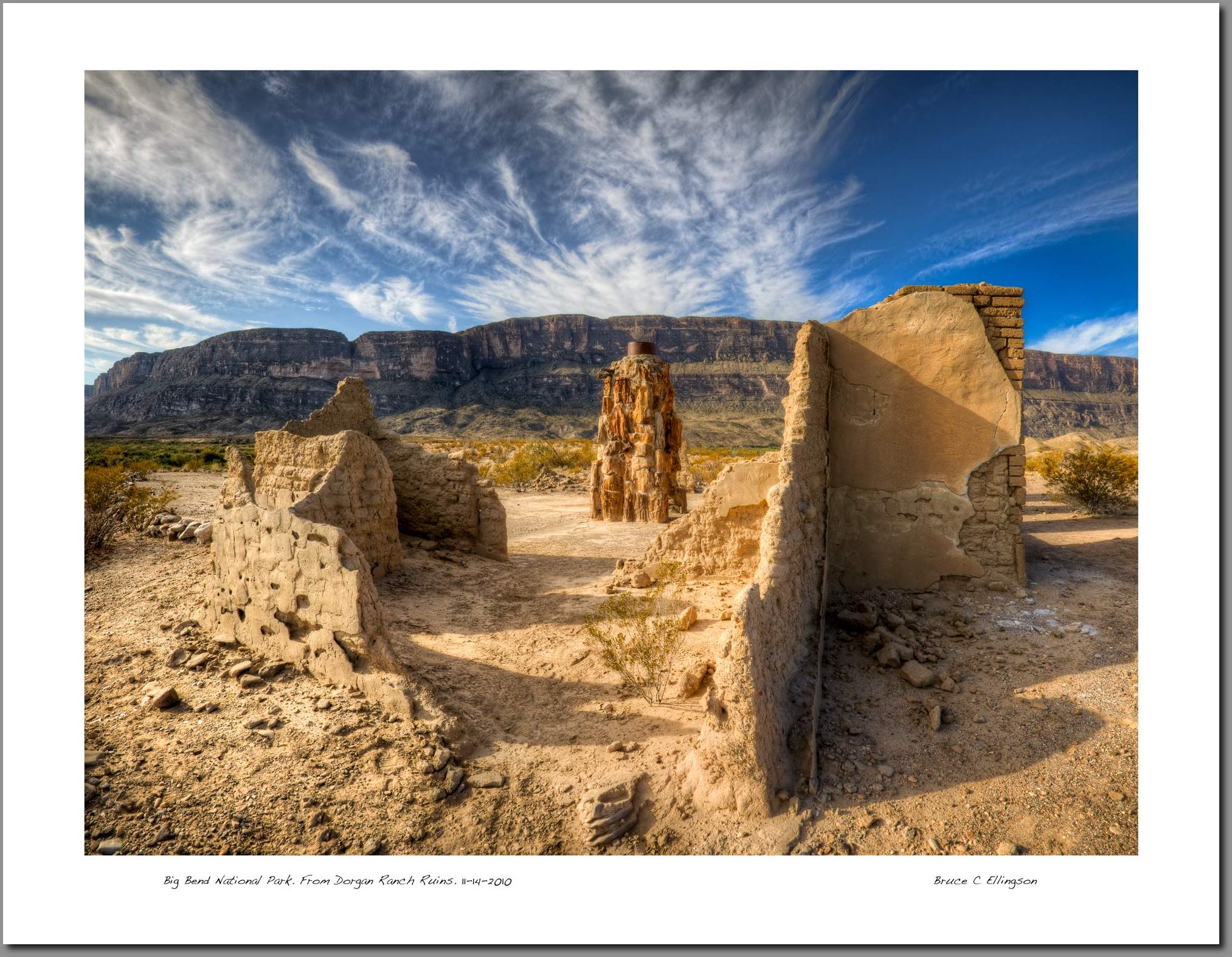 The Dorgan House in Castolon, circa 1951. Dorgan and his wife Avis abandoned the property in 1943. During the 1950's, area residents removed the roof and the exposed adobe walls began to 'melt'. Only the front entranceway and fireplace remain intact (see above). In the 1990's, the Vanishing Treasures program stabilized the front architectural features. Photos courtesy of Tom Alex, Big Bend National Park archives.
The Hunt for A.W. Dorgan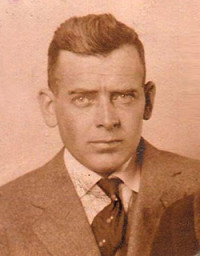 Our cache of letters mailed to A.W. Dorgan in Castolon provide clues and evidence revealing the true events behind nearly every mystery of Castolon, the Johnson Ranch, and the founding of Big Bend National Park.
In 1943, Dorgan left Castolon after the National Park Service forced residents to abandon their homes. Now, after 72 years in hiding, Big Bend National Park can finally meet the 'real' A.W. Dorgan, Landscape Architect. We are privileged to introduce the previously unknown station chief of the Johnson Ranch Army Air Corps field and master planner of Big Bend–Ensign Albert William Dorgan (1887-1985), United States Naval Reserve Force.
To learn the full story of Dorgan, Castolon, the Johnson Ranch–and the real events behind the founding of Big Bend National Park–click here.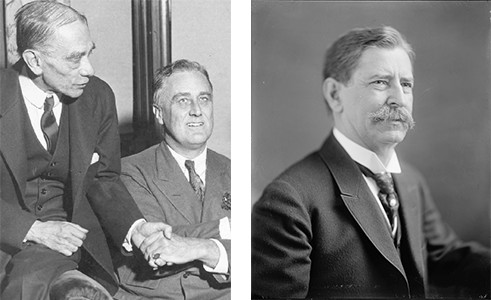 From left to right:  Louis McHenry Howe and President Roosevelt.  Claude A. Swanson, Secretary of the Navy