The Big Bend International Park
A Dream Deferred For 84 Years – But Why?
The short answer is politics, economics, and national security.
Prior to 2001, visitors to Big Bend National Park were able to cross the Rio Grande without passports and enjoy the quiet adjacent border town of Boquillas, Mexico. However, following the terrorist attacks of 9/11, U.S. Customs indefinitely closed the border crossing. By 2013, the Boquillas Port-of-Entry reopened and in April 2015, Secretary of the Interior Sally Jewell confirmed at a ceremony in Big Bend that the United States and Mexico continue to "share a continued commitment toward fulfilling a conservation vision…proposed over sixty years ago."
In 1944, President Franklin D. Roosevelt referred to the dream shared by of President of Mexico Manuel Avila Camacho and expressed his opinion that "I do not believe that this undertaking in the Big Bend will be complete until the entire park area in this region on both sides of the Rio Grande forms one great international park." Unknown to Jewell and the National Park Service, support for the international park endured under Roosevelt's successor, President Harry S. Truman.
Truman wrote to Camacho in 1946 and informed him that "this international park, comparable to that which unites the United States and Canada, was very close to the heart of the late Mr. Roosevelt—as it is to mine." He added that "such a joint project of inestimable value to our citizens on both sides of the border would remain a living symbol of the growing friendship between our two peoples." Presidential interest in the international park continued into the 21st century. In 2010, President Obama and President Calderón announced that both the U.S. and Mexico agreed to develop an Action Plan for development of the Big Bend-Rio Bravo International Park.
While the border crossing reopened in 2013, president-elect Donald J. Trump is already proposing a border wall—including national park lands. Any wall or fence in Big Bend will be catastrophic to both scenery and wildlife.
One key question remains: Will this project remain incomplete after 84 years? For more information,
click here.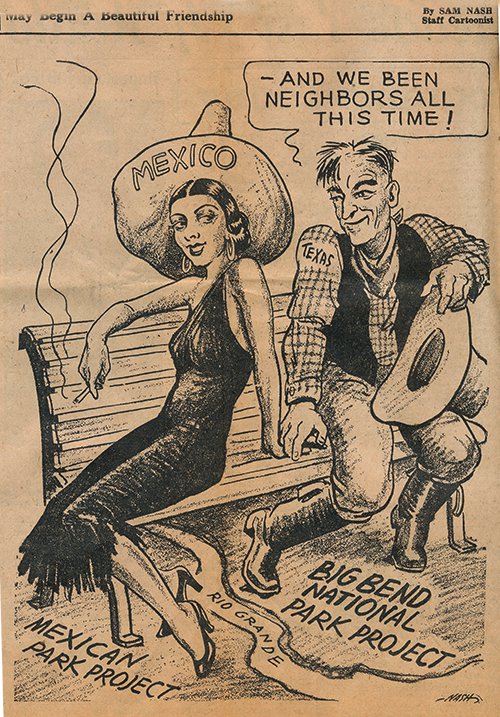 Where Did All This Happen?
A Master Plan Concealed For 75 Years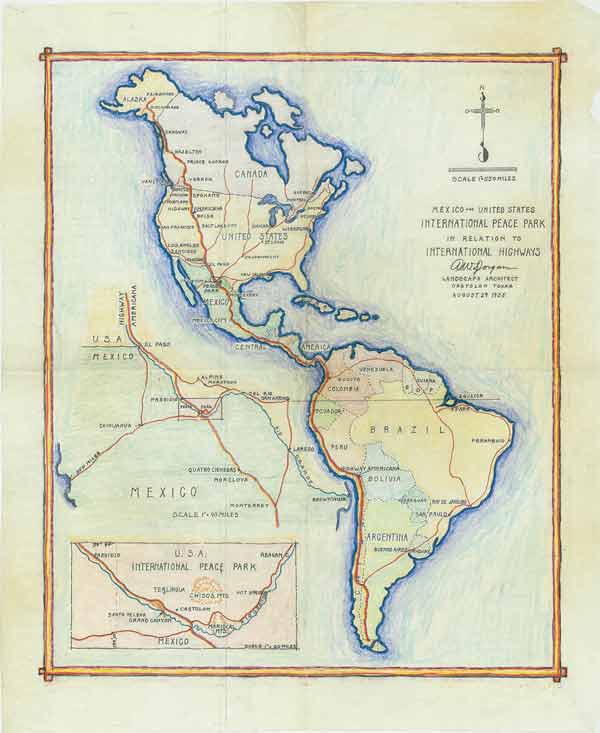 Hand drawn map of the International Peace Park by Albert W. Dorgan, showing connections to proposed international highways from Alaska to South America.   Courtesy National Archives.  Mouseover to zoom.
Previously unexamined documents in the National Archives reveal a master development plan for Big Bend rivaling any known public works project of the Great Depression.  In 1935, Texans in Washington pursued the most complex international construction project of the New Deal era—a recreation area in Big Bend featuring hydroelectric dams, artificial lakes, a hacienda resort, and a scenic border highway designed for civilian and military use.
Texas proposed a series of three hydroelectric dams in the canyons of Big Bend, creating multipurpose reservoirs along the Rio Grande useful for recreation, flood control, and irrigation.  An unlimited supply of electric power would allow Texas to build and operate a massive tourist resort in Big Bend—and generate millions in state revenue from sale of electricity to Mexico.
Development plans also included a scenic border highway paralleling the Rio Grande between Big Bend and El Paso.  This route merged with a proposed extension of the Pan American Highway to create a major commercial artery for the southwest United States—and provide the infrastructure necessary for a massive international recreation area.  In the event Mexican aggression, the border highway provided a route for immediate troop deployment and national defense—a role played two decades later by the Eisenhower interstate system.
With highway access, artificial lakes and an infinite supply of electricity, conditions were ideal for developing self-sustaining townships supported by agriculture, interstate commerce, and tourism.  The Big Bend International Park would ultimately transform the lower Rio Grande into a series of New Deal model communities similar to others developing across Texas.
To view unknown project designs and learn more about these New Deal "Cities of the Future", click here.
Help Us Discover the Rest of the Story.
Join the adventure, Subscribe!
Want to learn more about the largest unknown political conspiracy of the Great Depression? So do we!
We need your support to uncover the remainder of this story.  Priceless records are scattered in archives from Washington to Texas to Denver and beyond.  Your help in retrieving this material contributes to American history and the current U.S-Mexican international park campaign in Big Bend.
Enter your email address in the box above to receive periodic updates as we continue our research. Be among the first to enjoy unknown maps, photographs, letters, telegrams, and more! We promise we'll never share or spam your email.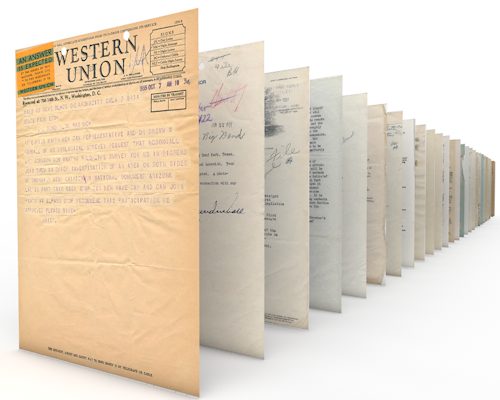 Help Along the Way
As we complete our second year of research, we express our thanks and gratitude for your invaluable advice and assistance.
Franklin D. Roosevelt Presidential Library and Museum
Hyde Park, NY
Harry S. Truman Presidential Library and Museum
Independence, MO
U.S. Department of State, Office of the Historian
Washington D.C.
Federal Preservation Institute
National Park Service, Washington D.C.
Big Bend National Park, Texas
Tom Alex, Archaeologist
The Eleanor Roosevelt Papers Project
George Washington University
National Personnel Records Center
St. Louis, MO
National Archives and Records Administration
Washington, D.C.
Office of International Affairs
National Park Service, Washington, D.C.
Rotary International Archives
Evanston, IL
National Archives II
College Park, MD
National Archives
Denver, CO
Texas State Library and Archives Commission
Austin, TX
Archives of the Big Bend
Sul Ross State University, Alpine, TX
Civilian Conservation Corps Legacy
Edinburg, VA
Texas State Historical Association
Denton, TX
Papers of R.E. Thomason
University of Texas at El Paso
Michigan State University
East Lansing, MI
Greater Big Bend Coalition
El Paso, TX
Texas Parks and Wildlife Department
Austin, TX